I'm hoping not to jinx myself...but the last 2 days of naps and last night were MUCH better with Kaisley! On the 4th, she fell asleep in her high chair (above)...so we left her there....for 2 1/2 hours! I certainly wasn't going to move her! It was the first time this week she didn't cry for at least an hour when going to sleep! Ever since that nap...she's been doing better! We got 9 1/2 hours out of her last night!!!!
I guess it was just shots...but oh boy, how much do I NOT want to take her in for her 6 month shots! 1 1/2 months away and I'm already dreading it!
After our redneck party we had a pretty low key weekend, but here are a few highlights:
Mommy and the kids swimming (Kaisley was not a fan!)
We went to visit Mike the Tiger on LSU's campus. Brookston KNEW it was LSU and pointed out everything that was purple and gold, LSU or a Tiger! SO CUTE! We sort of got to see him...he was sleeping behind some bushes. He must hang out there a lot as it looked like they thinned the bushes along the fence to get a little view of his face while sleeping.
Daddy & Kaisley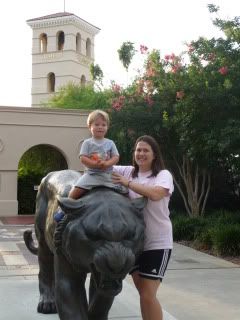 Mommy & Brookston