We've been wearing a lot of Purple and Gold around this house in the last week or so....
or in Kaisley's case, a little bit of pink too!

LSU is in the College World Series!!
They won game 1 on Monday, lost game 2 on Tuesday, so it all comes down to Wednesday!
GEAUX TIGERS!!!!!!!!!
(That's just "Go Tigers" for you non Louisiana folk!) ;)

This week Brookston learned to read/recognize "LSU Tigers"!
He points and says LSU every chance he gets, well, every time he sees it!
Good boy! We sure are raising him right!
Here are a few highlights...lots of LSU included!
Our LSU baby when she turned 4 MONTHS OLD!! (Monday)
Brookston playing in the bounce house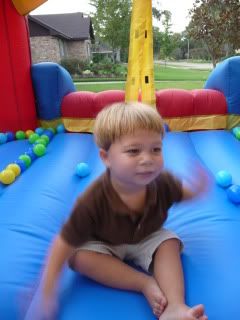 He was jumping and thrashing around so much, his arms are a blur in this picture!
Nothing like playing outside in the 100 + degrees! Icky!
Kaisley really wasn't too impressed with swimming...we'll try again another day!