This weekend the 4 of us went up to Lake Bruin (about 2 1/2 hours away) and had a blast! There were tractors to play on, paddle boats to motor boats to ride around the lake, fish to catch, bubbles to blow, a beautiful black lab that loves to play catch and go swimming, a swing, a nice clean and cool lake to go swimming, a sprinkler to played in, a big boy bed to sleep in, yummy food to eat, and good company to play (Brookston), cuddle (Kaisley) and talk with(mommy and daddy)!
One of our friend's inlaws/parents live up there and well, we went to visit! Thanks Papa and Yaya for a great weekend!
So many highlights from the weekend:
Playing on the tractors
Paddle boat with daddy - Yes, that is a pink life jacket
Swimming - Daddy said real men wear pink!!! ;)
Swinging
Cuddling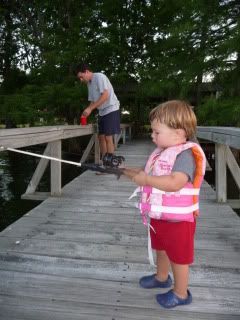 Above is Brookston fishing in June, 2009
Here he was fishing on the same peir almost exactly 2 years earlier!
Brookston caught his first fish...HE actually caught it!
However, the excitement of seeing the fish quickly turned into an upset toddler...
he knew the fish was supposed to be in the water!!!
He really really wanted daddy to put it back!
We decided dinner was not the time to tell him that THIS FISH was on our plate!
Bubbles!!!!
Playing fetch with Molly
The sprinkler
And the weekend finished up with a water birthday party:
Yummy yummy!!!
(Don't miss below, I added 2 other posts today!)