Brookston was being super cute and sharing his coloring books with his baby sister...
But a posed pictures of a 3 month old and a 2 year old??? Haha! Yeah right! I thought oh how cute is this...I ended up dressing both kids in orange today and thought it was the perfect time to try siblings pictures....um, no!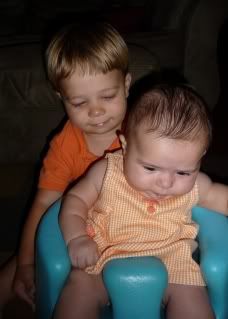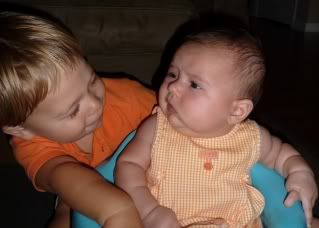 In other news...
Brookston is starting to self potty train! For maybe 3-4 weeks now, he'll ask to go sit on the potty at EVERY diaper change. It started with him just sitting on it and 10 seconds later, nothing, but he'd say "all done!" Which was fine...we certainly didn't expect anything at just 2 years old, being that everyone says boys are harder and take longer.
But maybe a week into it, he went a couple times here and there. And now in the last week or so, he goes EVERY time he sits down! He is NOT holding his bladder between potty visits though, which is totally fine, we aren't doing anything at this point, but he's so interested in the potty, you'd think this was perfect timing!
EXCEPT, 4 weeks from today I am traveling alone with both kids. Picture just me with 2 kids on a plane with a newly potty trained toddler...uh....no! It's not gonna happen.
So I hope I'm not missing my window here! We are going to wait until next month!!!
In Kaisley's world....
She's becoming more and more vocal, laughs included. How stinking cute are baby laughs...unfortunately they usually end in the hiccups! Poor thing! I almost feel guilty when I get her all happy and excited...but I can't resist those baby laughs.
Just for a little fun, here is Kaisley (3 1/2 months)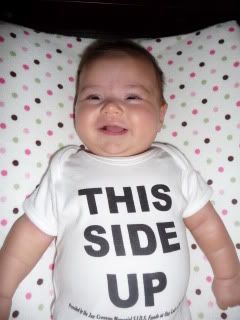 And here was Brookston (4 months)
Shirts were given to us by the hospital...Back to Sleep (SIDS prevention)! :) :)
Oh...and HELLO ROLLS!!!!
If you could only see those thighs too! You'd wanna pinch 'em! :)